NOTES:
Keys are guaranteed to work or your money back!
We provide full technical support.
If you have any question, don`t hesitate to contact us!
Introduction:
1,Since I am not in USA, to ship you the CD is expensive and inconvenient, so I only sent you the BitDefender Internet Security 2012 Product Key at a low price,  you can used the Product Key in 3PCs and get 1 year protection.
2, All Product Key is come from BitDefender official, we promise you can use it full 365 days, One day no less!  The Product Key will be sent in 6 hours by email after you paid.
3, Our Activation code supports all languages version. (English, German, French, etc.)
Recommend download the newest BitDefender Internet Security 2012 at Bitdefender official websites:
http://www.bitdefender.com/solutions/internet-security.html
Or direct download:
32 bit:  http://download.bitdefender.com/windows/desktop/i_security/2012/en-us/bitdefender_is_2012_32b.exe
64 bit:  http://download.bitdefender.com/windows/desktop/i_security/2012/en-us/bitdefender_is_2012_64b.exe
Screenshots: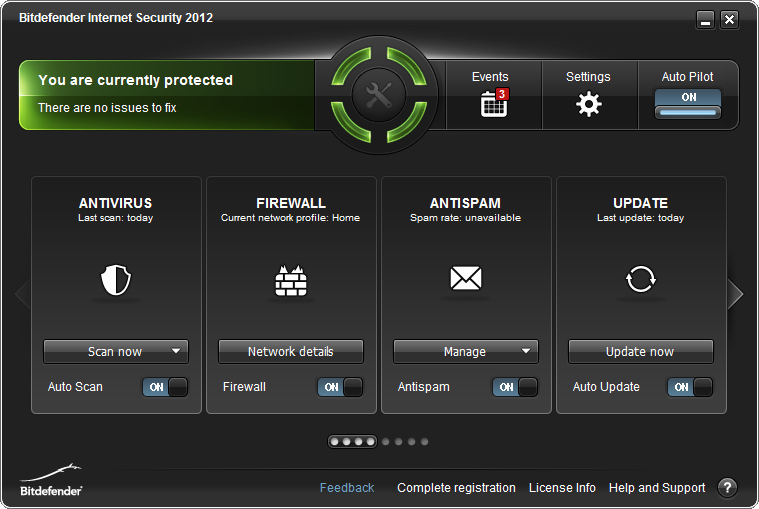 BitDefender Internet Security 2012  Product Features:
New! Autopilot – Provides a hassle-free experience by making optimal security-related decisions without input from you. This means no pop-ups, no alerts, nothing to configure!
New! Flexible Interface – Drag-and-drop modules give you quick access to the actions you perform most often directly from the main window.
New! Vulnerability Scanner – Checks for missing or outdated security software, missing Windows security patches, as well as potentially unsafe system settings.
More information:Click here